These coffee bar ideas for small spaces will undoubtedly be appealing if you have a small kitchen but a huge love for coffee. Like any other room in the house, it doesn't matter how big it is, what matters is just what you make of it. Additionally, there are many clever coffee bar ideas for much smaller spaces, despite the fact that you may been looking at ideal coffee bars that occupy an entire counter top.
Worldwide, more than a billion people regularly consume coffee. That is interesting, no? Many working adults depend on this versatile, caffeinated magic drink to get them throughout the day. You might be seeking for coffee bar ideas for small spaces if you're one of those people who like preparing their own coffee yet lives in a small apartment. Isn't it better to prepare the perfect cup yourself rather than paying money every day?
You'll be inspired to get imaginative by these little coffee bar ideas, and we're confident you'll be able to fit in a spot just for your preferred coffee.
1. A Simple Color Scheme Can Make a Big Input
Give importance to the color theme of your coffee bar. We want to visually limit the many small items on a coffee bar by adopting a limited color scheme. This will give our coffee nook a polished and appealing appearance. I frequently discuss color schemes since they are the key to having various objects appear as though they belong together. This will produce a lovely, uncluttered appearance. By using just one hue, you can make a little but precisely formed coffee bar.
2. A Peg Board Wall Can Save Space
Smaller kitchens really require space saving solutions. If you believe you do not have enough counter space for all of your necessary coffee equipment, reconsider! To create a simple DIY coffee bar, hang utensils, milk jugs, and small coffee cups from a pegboard wall. Even little shelves can be placed to hold your mugs. In addition to being unquestionably useful, they also give a space a trendy, unique, and slightly practical vibe.
3. Keep Supplies Away From View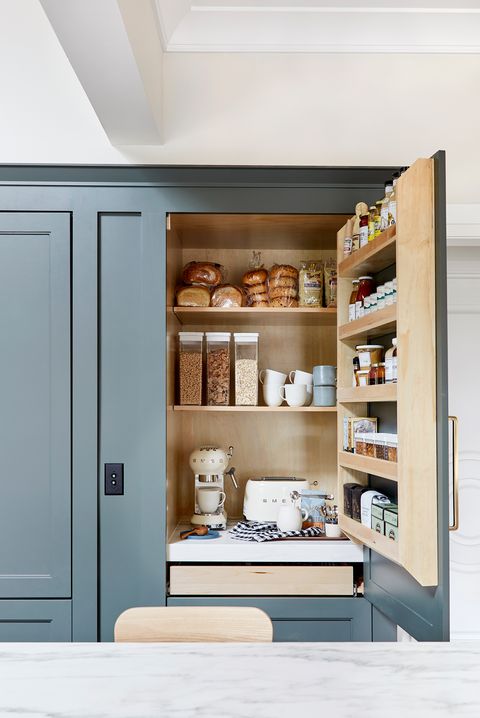 Choose a console table with compartments and add closed storage to its shelves if you'd like not to see all of your coffee-making materials all day. This minimalist display is completed by glass jars with contemporary wooden tops.
4. Pick Up Some Trays
You can also organize all of your barista necessities with the help of small trays and drink coasters, which also provide the counter top some aesthetic appeal. Straws and sugar cubes can all be stored inside candy jars and other preferred glassware.
5. Sleek Cabinet Coffee Bar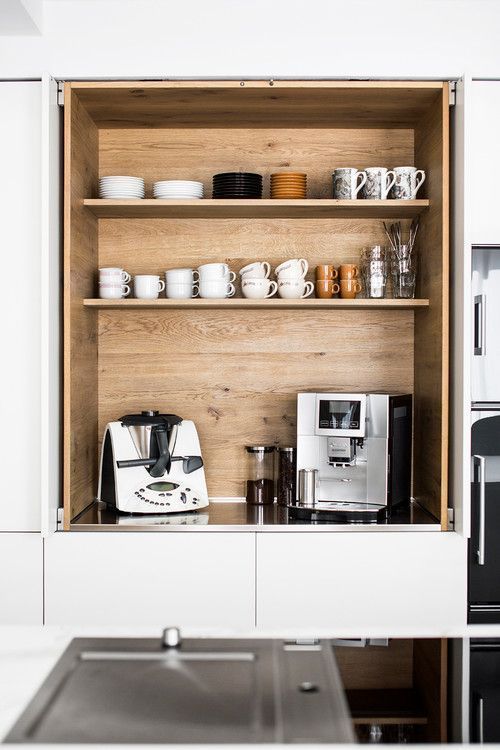 The finest DIY coffee bar ideas for tiny spaces often involve cabinets. Larger objects can be stored right underneath the cabinet, such as coffee machines and french presses. If you have a tray, use it. Everything will appear more ordered as a result. You'll have a great space set for your coffee adventures once you've labeled and stocked all of your containers.
6. Lack Of Kitchen Space? Shift Your Coffee Bar To a Different Room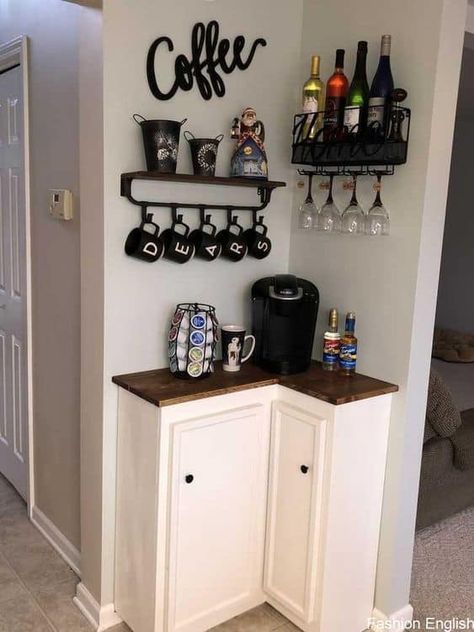 Sometimes your space is just too little to accommodate everything you'd like it to, but a small kitchen doesn't automatically rule out a coffee bar. If you truly love coffee, convert a portion of another room into your own personal cafe.
7. Select Compatible Jars And Jugs To Form a Design Of Even The Smallest Spaces
Keep your coffee bar area compact and orderly if you don't have much space by matching up your jugs, jars, canisters, and coffee cups. By using it, this design conveys a quaint and traditional atmosphere.
8. Shelf-Floating Coffee Bar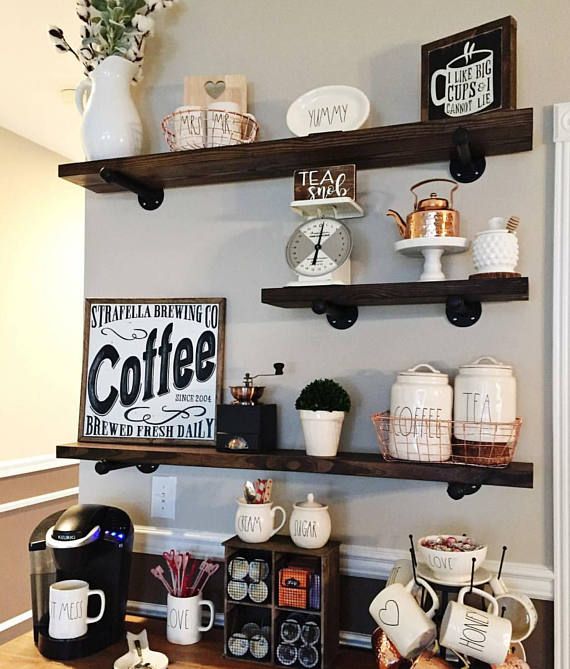 As your new corner coffee bar idea for tiny spaces, use an extra table. This is ideal if you're seeking for a simple interior design. Make floating shelves out of recycled wood to keep some of the items. Keep the majority of your materials out of sight. This will offer your coffee shop a highly tidy appearance and a tranquil aura. A little plant that brings in some natural components is the greatest addition to such a coffee station.
9. Scandinavian Coffee Bar
With this inexpensive DIY coffee corner bar concept for tiny spaces, go for a simple and modern coffee bar. Keep the area tidy and avoid adding any extraneous items with this design. Including a sign for a coffee shop is a unique yet elegant touch. Such peaceful areas will be a wonderful way for you to begin your day.
10. Make Creative Use of Cake Stands
Cake stands shouldn't be kept in the cabinet's back, especially if they're this beautiful. Use them to store the necessities for a coffee bar and add a touch of elegance to each day.
Smallspacelove.com is a participant in the Amazon Services LLC Associates Program, an affiliate advertising program designed to provide a means for sites to earn advertising fees by advertising and linking to Amazon.com.